IMPORTANT NOTICES

State Regulations
Life Settlement Laws, Regulations & State Licensing Requirements
Over the past decade, the laws and regulations governing life settlement transactions have changed as quickly as the life settlement market itself. Welcome Funds, Inc. employs a fully-staffed compliance department and in-house counsel to address all regulatory issues.
Welcome Funds and/or a principal of Welcome Funds is authorized, registered and/or licensed to conduct business in 45 states. In some cases, where state laws vary, Welcome Funds and/or a member of its senior management team is licensed as a viatical/life settlement broker and/or a life producer. In addition, we confirm the licenses of referring agents to ensure compliance prior to accepting and to finalizing a life settlement transaction. Please contact Welcome Funds for up-to-date licensing information.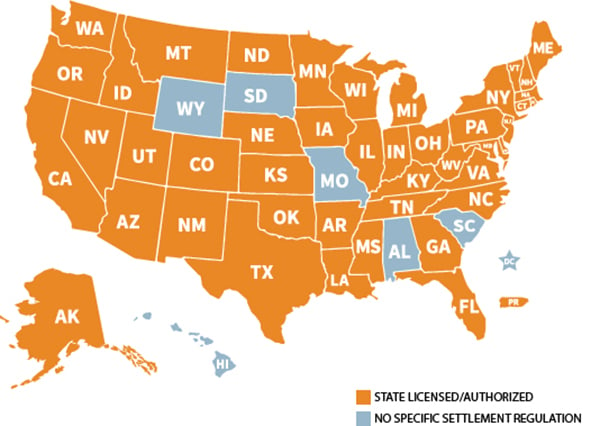 Map updated December 2022
Life Settlement Applications
A life settlement application is a formal request to sell an existing life insurance policy for a lump sum cash payment. The purpose of a life settlement application is to allow policy owners to access the true value of their life insurance policy before it matures or before the insured person passes away. This can be useful for seniors who no longer need or can not afford their life insurance policy, or for those who are facing financial difficulties and need to access cash quickly.
Please select the state of residence of the Policy Owner and click to download our life settlement forms. If the Policy Owner is a Trust, then be sure to select the state in which the Trust is officially domiciled. It is imperative to use the proper state forms as disclosures vary by state and the transaction will be governed according to state viatical settlements or life settlement law in the Policy Owner's home state.

If you have any questions, feel free to contact us at 877.227.4484 for a complimentary Life Settlement Consultation or you can find out if you qualify for a life settlement using our Quick Life Settlement Qualifier - it's fast, easy and there are no obligations at any time.