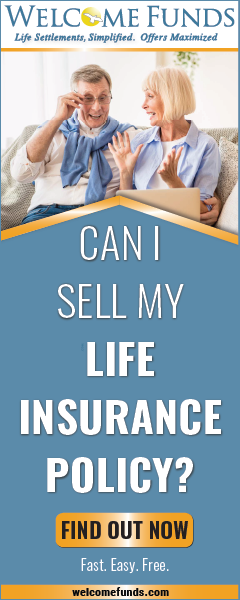 About Welcome Funds
Many Americans have no idea that they are sitting on a valuable asset, their life insurance policy - an asset that can be sold in a regulated secondary market for cash. Whether you need that money to pay your bills, maintain your independence, access cutting-edge medical services, or simply want a better option than lapsing the life insurance policy, Welcome Funds can help!
Since 2000, Welcome Funds has been assisting older Americans, and others facing life-threatening illnesses, to achieve financial freedom through a life settlement.
Our goal is simple...to help you understand your options when selling a life insurance policy and give you the confidence to make the best decision for you and your family, during a time when it matters the most. We are committed to getting you the best possible payout for your life insurance policy.
Top Life Settlement Buyers in the Life Settlement Market
We connect you to the top life settlement buyers in the life settlement market. Just like a great real estate agent when you're selling your home, our job is to get your life insurance policy in front of as many potential life settlement buyers as possible...because more buyers mean more competition and more competition means higher life settlement offers.
We Ensure a Fair Life Settlement Market Value Using Our 23 Years of Proprietary Market Data
With a database of over 33,000 life settlement offers to compare yours to, we can determine if your offers are fair and use this information to negotiate the best deal for your life insurance policy. We know the life settlement market and we use our knowledge to maximize the value of your life insurance policy during our negotiations.
Experienced Life Settlement Negotiators Look Out for Your Best Interest
Our team of life settlement experts is armed with a combined 40 years in the life settlement market. They know the life settlement buyers, they know the life settlement industry inside and out and they work tirelessly on your behalf to get you the best life settlement offer as quickly as possible.
The Life Settlement Process From Start to Finish
We are Here for You! Our goal is to ensure at every step of the way you feel informed, comfortable, and have total peace of mind. We are here to educate you about all of your life settlement options and ensure that you, your family, and your personal advisors have a full understanding of the life settlement process. Check out some of Welcome Funds testimonials and case studies.
Our life settlement consultation is FREE and there is no obligation at any time... Are you ready to take your first step to financial freedom?