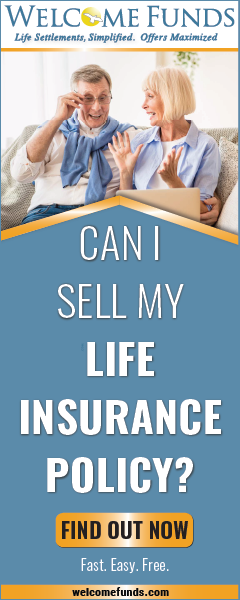 Life Settlement Double Check by Welcome Funds
You probably don't know what the fair market value of your life insurance policy is, but we do! Welcome Funds negotiates thousands of life settlement offers annually with the leading buyers in the market and averages 10+ bids for each closing. We will compare your offer to hundreds of other transactions to verify your policy's competitive market value. Don't accept a bid from a direct buyer until you've verified that it's a fair market value. Your policy may be as valuable as your home, so make sure you sell it for the RIGHT PRICE!
The Life Settlement Double Check is an offer verification service from Welcome Funds that helps consumers confirm that a fair and competitive price was secured for the sale of their life insurance policy.
Nationally Licensed to Negotiate Life Settlement Contracts with the Top Buyers in the Marketplace
Founded in 2000, Welcome Funds is a nationally licensed broker that represents policy owners who want to sell a life insurance policy for cash. Our network of licensed buyers compete in an auction-based negotiation process to ensure that we secure the best price for the sale of your policy. We've negotiated over 33,000 offers from state licensed buyers and provided more than $1 Billion in sales proceeds to our clients. Please review our website to learn more about how we can provide professional representation and expert advice on selling in your life insurance policy.
It's Absolutely FREE to Find Out if You or Your Loved One Is Eligible
There's No Obligation at Any Time
Our Qualification Process is Completely Confidential
We Provide a FREE Personal Consultation & Appraisal
Complete our quick Life Settlement Qualifier or call us toll-free at 877.227.4484 to speak with a Client Care Advocate.