How to Fund Long-Term Care with a Life Settlement
Posted: May 15, 2023 by John Welcom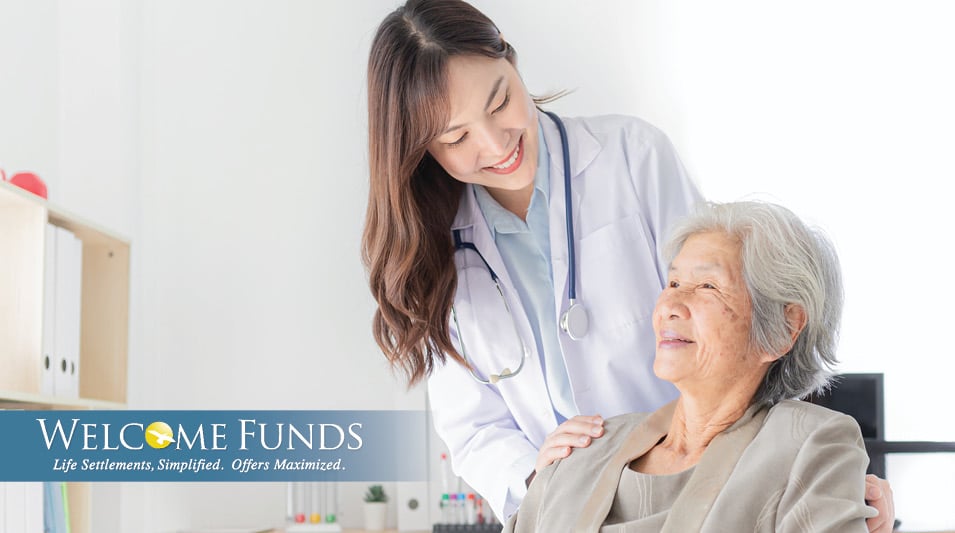 Nearly 7 in 10 retirees will need some type of long-term care, according to the U.S. Department of Health and Human Services.  Unfortunately, many seniors do not address this expense as part of their retirement budgets.
"As retirees live longer, many worry about outliving their savings," said CNBC.com. "However, many older Americans haven't planned for a looming expense: the cost of long-term care."
But it is difficult to plan for long-term care expenses. 
"There are several factors that can impact the cost of a nursing home stay, including location, duration of stay, and care services required, among others," reported Senior Living. "According to a 2021 Cost of Care Survey by Genworth, a private room in a nursing home costs $297 per day, or $9,034 per month. Semiprivate rooms are more affordable, with a median cost of $260 per day, or $7,908 per month."
Another issue to overcome is the scarcity of options for reasonably priced insurance coverage to offset long-term care expenses.  A policy may cover all services, or it may just cover a portion. The premiums can vary widely depending on someone's age, gender, health or residence — anywhere from $1,375 to $3,685 per year for a healthy 55 year-old man, and from $2,150 to $6,400 per year for a healthy 55 year-old woman, according to the American Association of Long-Term Care Insurance (AALTCI) — and they typically increase by 5% or so every few years.  Then, there is the awkward reality that only 50% of policyholders will ever need their policy, the AALTCI estimates.
Therefore, for those seniors who do not purchase long-term care insurance, they are left with basically two choices: Medicaid as opposed to Medicare, which is popular with seniors for providing inexpensive health insurance coverage; or personal funds.
Why?
Medicare does not cover long-term care.
"(Medicare) only provides limited short-term coverage, up to 100 days for skilled nursing or rehabilitation services after a three-day hospital stay," according to the Lake County Examiner.  "Medicaid, however, does cover nursing home and in-home care."
The catch is that to be eligible for coverage, the senior must have very little income and assets of no more than roughly $2,000, including investments.  For all practical purposes, "most people who enter a nursing home don't qualify for Medicaid at first but pay for care out-of-pocket until they deplete their savings enough to qualify," reports the Examiner.
In other words, the choice to pay for long-term care expenses with Medicaid is essentially a choice to go broke for a senior advancing in age.
But what about the use of personal funds to pay for long-term care?  How can retirees possibly afford a new expense item of perhaps $100,000 per year if not planned for in their retirement budgets?
California Health Advocates, a leading non-profit organization, published an insightful tutorial on this subject ("Options for Financing Long-Term Care") that identifies two good options for increased liquidity— aside from long-term care insurance and life insurance with long term care and/or accelerated death benefits — for seniors to consider:
Home Equity Conversion (also known as a "reverse mortgage"); and
Life Settlements
This recommendation echoes the findings of a 2017 report from the National Association of Insurance Commissioners (NAIC) that all retirees should understand.
The NAIC, the U.S. regulatory support organization created by the chief insurance regulators from all 50 states, formed a subcommittee to study how seniors could obtain financial help for funding medical expenses — specifically the costs associated with long-term care.  The group issued a report that identified four viable options for privately funding these expensive health care costs, but only one of them does not involve seniors buying anything or spending any money out of their own pockets: life settlements.
A life settlement is a proven strategy for generating cash from an unwanted or unaffordable life insurance policy.  In a life settlement transaction, a senior sells his or her life insurance policy to a third-party investor for a cash payment.  The investor then takes over the premiums on the policy and collects the death benefit when the insured passes away.
Consumers who sell their life insurance policies receive a lump sum payment that can then be used to pay for health care expenses without depleting other retirement assets.  In fact, the NAIC report also notes that seniors "in immediate need of long-term care can sell their life insurance policies and receive the proceeds of the sale free from federal tax (Internal Revenue Code §101(g))."
Life settlement transactions are highly regulated, with laws governing transactions in approximately 45 states, and the industry has been experiencing annual steady growth as more seniors become aware of the option to sell their unneeded life insurance policies. 
If there is a life insurance policy that is no longer wanted or affordable, for whatever reason, then it's important to have an experienced life settlement broker evaluate it to determine its true potential market value.  A licensed life settlement broker is obligated to serve the policy owner's best interests, not those of any outside investors, fund managers or institutional capital sources.

At Welcome Funds, as a life settlement broker, we create competition among top licensed buyers with our innovative auction-based platform.  The results, on average*, yield multiple offers for each policy.  To see if a life insurance policy qualifies for a life settlement, please complete our quick Life Settlement Qualifier.  Our process is confidential and there is no obligation at any time.  For more information about Welcome Funds, please visit www.welcomefunds.com or call 877.227.4484.
*From 7/1/2022 to 12/31/2022, Welcome Funds averaged 11.7 bids negotiated per closed policy.