The Pandemic and Life Settlements: How Financial Advisors Can Help
Posted: July 01, 2022 by John Welcom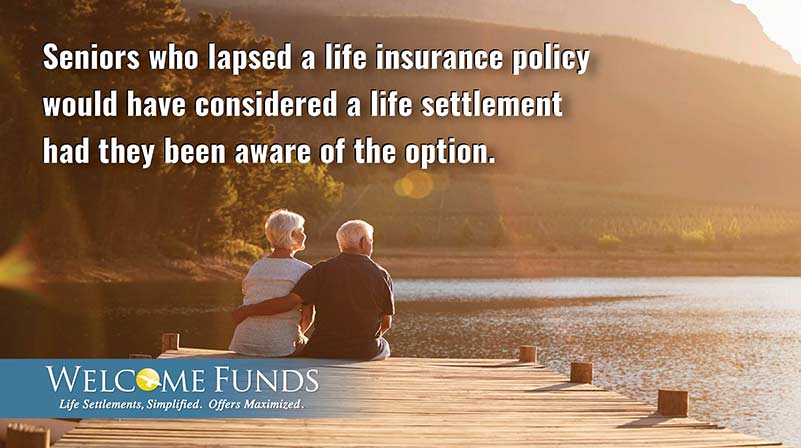 The COVID-19 pandemic not only created a worldwide public health emergency, but it also had an enormous impact on every sector of the global economy. The life insurance industry has been no exception.
Official statistics will not be available for some time, but there will inevitably be a rise in death benefit claims filed by survivors of COVID victims.  There also will likely be an increased incidence of lapse in premium payments during this challenging economic period. These are some of the sad effects of the coronavirus on so many families.
In the midst of such uncertainty and apprehension, however, the pandemic, and its continuing lingering effects, has created an important opportunity for financial advisors to identify senior clients who no longer need or can afford their life insurance policies.
The Life Settlement Market
Each year, billions of dollars in face value of life insurance is lapsed by seniors over the age of 65, mostly from a lack of knowledge that an unwanted policy may be sold. There are numerous reasons to consider selling a life insurance policy — rather than allowing it to lapse or be surrendered — such as the premiums have become too expensive; there's a sudden need for liquidity to pay for health related or long-term care costs; or there is simply a desire for more cash to improve a retirement lifestyle.
As more seniors and their trusted advisors are aware of this alternative to the lapse or surrender of a life insurance policy, the sale of life insurance policies each year through life settlement transactions become more mainstream, accepted and celebrated.
The U.S. life settlements industry offers seniors a potential solution to their cash needs with a simple transaction that is safe, ethical and well-regulated.  By contacting Welcome Funds, they can quickly obtain a no-obligation fair market appraisal of their life insurance policies and then compare that estimate to the cash surrender value offered by the insurance company. The proof is in the results: life settlement transactions have been growing each year and are projected to continue to grow for years to come.
Industry professionals continue to assess the impact that COVID-19 has had on the life settlement market.  Conning, a leading investment management firm with a long history serving the insurance industry, published a special report in 2020 — "The COVID-19 Impact on Life Settlements" — that analyzed how the pandemic is impacting the life settlement asset class.
Although the pandemic, particularly at the onset over 2 years ago, caused some sellers of life insurance policies to be cautious and take a wait-and-see approach, the appeal of life settlements to retirees who found themselves in need of new sources of cash was tangible.
"There are several drivers that favor continued growth in the life settlement market," said Steve Webersen, head of insurance research at Conning. "Investors will have a larger number of policies to select from because of the increasing number of retiring baby boomers. In addition, the economic disruption from COVID-19 may increase the appeal of life settlements to those retirees."
In the end, Conning issued a 10-year forecast calling for double-digit compounded annual growth in the gross market for life settlements.
Opportunity for Financial Advisors
Financial advisors play a key role in helping their clients identify both sources of cash flow and areas where they can reduce their discretionary expenses. This is an important fiscal discipline anytime, but it is especially imperative right now as the pandemic has disrupted so many lives and placed an economic strain on thousands of families.
The life settlement option may be attractive for clients who no longer need or can afford their life insurance policies. In these cases, a life settlement transaction can achieve both fiscal disciplines simultaneously —increase cash (by selling eligible policies) and decrease expenses (by eliminating annual premiums).
The problem is that, even with increased awareness particularly over the last few years, most clients are not aware that the life settlement option even exists. In fact, one survey several years ago found that 82 percent of seniors were not aware of any alternatives to lapsing or surrendering their life insurance policies. Another survey found that a stunning 9 in 10 seniors who lapsed a life insurance policy would have considered a life settlement had they been aware of the option.
Conclusion
For the right client and under the right circumstances, a life settlement, particularly as a more attractive and lucrative option compared to simply surrendering the policy back to the carrier, can be a tremendous vehicle for generating cash and eliminating a burdensome annual expense. It is an excellent time for financial advisors to review their existing client rosters, closely examine life insurance policies owned by any senior clients and see how their families are faring from the lasting effects of the pandemic. 

For more information or to receive a free, no-obligation appraisal of a life insurance policy, then please visit www.welcomefunds.com or call 877.227.4484.