Sell A Term Life Insurance Policy: See How Kevin Received $30,000 Instead of $0!
Posted: March 20, 2023 by John Welcom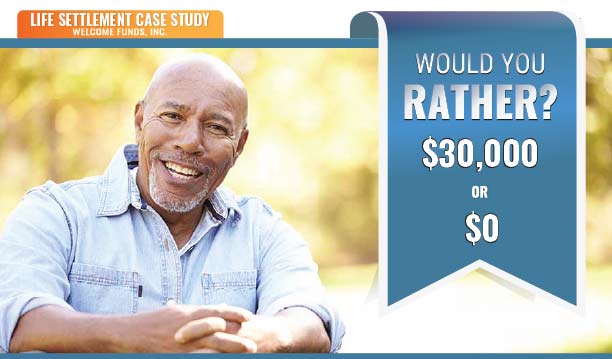 HAS YOUR TERM LIFE INSURANCE POLICY SERVED ITS PURPOSE?
Kevin purchased a 10-Year level term policy at age 58 to provide his family with some financial security. The expiration date was fast approaching and Kevin's medical bills were mounting. In need of some financial relief, Kevin was contemplating canceling the term policy. Thankfully, Kevin's wife reached out to Welcome Funds to see if the policy had any life settlement value. It did. Based on Kevin's age and health, Welcome Funds secured Kevin and his wife $30,000, which is certainly better than lapsing the policy for $0.00 Funds. Kevin realized that anything above his surrender value would be a victory. It certainly was, in a big way.
| | |
| --- | --- |
| Policy's Insured | Male | Age 66 |
| Health Status | Poor |
| Policy Type | Term Life Insurance Policy |
| Face Amount | $100,000 |
| Annual Premium | $5,799 |
| Surrender Value | $0 |
Life Settlement Payout.... $30,000