How to Sell Your Life Insurance Policy for $64,800 Instead of $10,000!
Posted: March 03, 2021 by John Welcom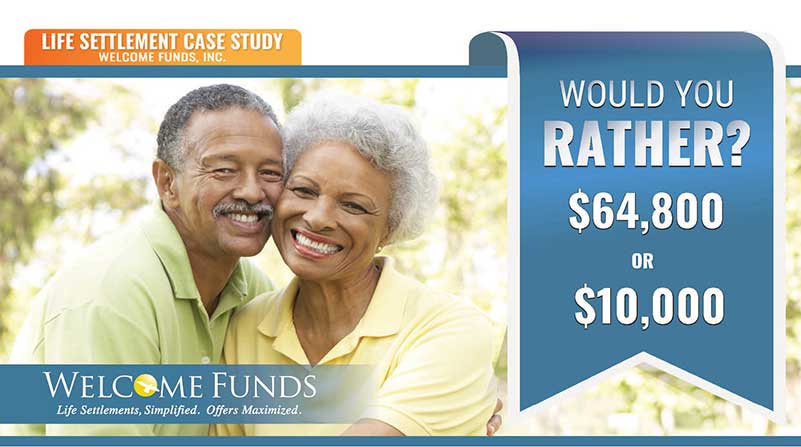 When Buyers Compete, Policy Owners Win!
Ronald purchased a $300,000 Universal Life policy back in 1999 to provide his wife with financial security. Unfortunately, after 20+ years, Ronald could no longer afford the premium payments as his healthcare costs were mounting. One day, while watching the evening news, Ronald saw a TV commercial from a direct buyer, called a life settlement provider, about selling a life insurance policy for cash. Ronald decided to call the direct buyer and after weeks of waiting, he was offered $10,000 for his $300,000 policy. Ronald said, "no way," and decided to investigate other alternatives. Ultimately, Ronald decided that a life settlement broker, who would contact multiple companies to maximize the purchase price, would be his best option. After extensive research, he chose Welcome Funds. Welcome Funds conducted a transparent auction securing a total of 22 offers. In the end, Ronald received a check for $64,800, 548% more than the offer extended by the direct buyer!
| | |
| --- | --- |
| Policy's Insured | Male | Age 69 |
| Health Status | Fair |
| Policy Type | Universal Life |
| Face Amount | $300,000 |
| Annual Premium | $21,442 |
| Surrender Value | $749 |
Life Settlement Payout.... $64,800