How to Sell Your Life Insurance Policy for $54,000 Instead of $20,000!
Posted: February 19, 2021 by John Welcom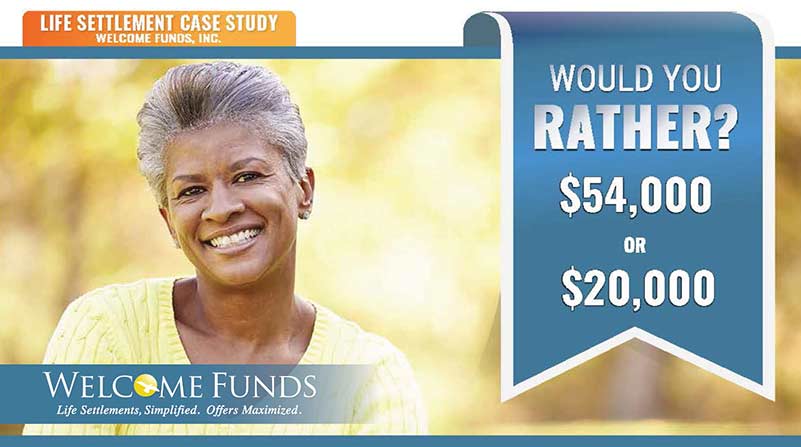 The Power of Competition Results in a 170% Increase
Margie purchased a 20-year level, convertible Term life insurance policy at age 48 to provide her daughter with financial security. Twenty years later, the term premium was set to increase dramatically and Margie's family could not afford to maintain the term life policy. Margie decided to explore a life settlement after seeing a TV commercial. She contacted one buyer directly, called a life settlement provider, but felt the $20,000 offer she received was low given her deteriorating health. Thankfully, Margie reached out to Welcome Funds to obtain a second opinion. Welcome Funds conducted a transparent auction securing a total of 16 offers from multiple life settlement providers (buyers). In the end, Margie was paid $54,000, a 170% increase compared to the offer she received initially and was able to assist her daughter with a down payment on a new house.
| | |
| --- | --- |
| Policy's Insured | Female | Age 68 |
| Health Status | Fair |
| Policy Type | Term Life |
| Face Amount | $500,000 |
| Annual Premium | $23,880 |
| Surrender Value | $0 |
Life Settlement Payout.... $54,000