Sell A Term Life Insurance Policy: See How Scott Received $2,650,000 Instead of $0!
Posted: March 13, 2023 by John Welcom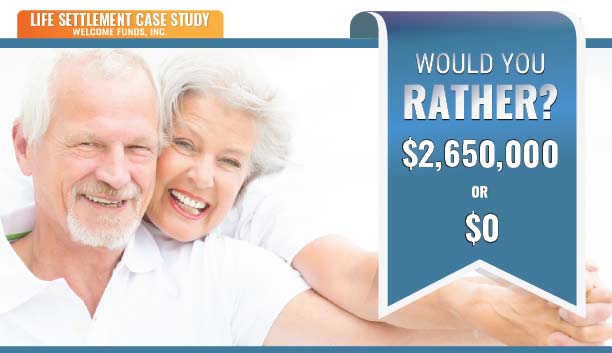 WELCOME FUNDS EXCEEDS EXPECTATIONS!
Scott purchased a $6 million dollar 10 year term life insurance policy at age 59 to protect his family and business interests. A decade later, approaching the term conversion deadline, Scott was facing a $148,000 annual conversion premium. He did not want to pay this much for coverage.  Scott spoke with his financial advisor who recommended looking into the life settlement option. Based on his significant health history, he told Scott he could "probably get $1 million bucks."  Scott was thrilled.
They contacted Welcome Funds and experienced the power of the firm's auction platform. Scott received over 25 life settlement offers and was overwhelmed when he ended up receiving $2,650,000!  He is enjoying his retirement with plenty of cash in the bank. Both Scott and his advisor who was paid on the conversion are extremely happy.
| | |
| --- | --- |
| Policy's Insured | Male | Age 69 |
| Health Status | Poor |
| Policy Type | Term Life Insurance Policy |
| Face Amount | $6,000,000 |
| Annual Premium | $148,000 |
| Surrender Value | $0 |
Life Settlement Payout.... $2,650,000