Life Settlement Broker Licensing: Among Most Demanding in Financial Services Industry
Posted: October 29, 2021 by John Welcom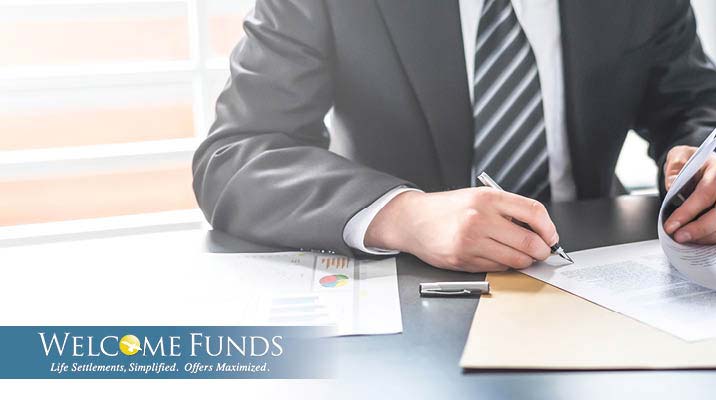 A financial advisor working with a retired client will routinely review his assets and liabilities to help him achieve his personal goals.  Such goals include generating cash flow for retirement funding, supporting charitable giving interests, or leaving a legacy for heirs.  One asset often overlooked is a life insurance policy purchased years ago as financial protection for loved ones.
Thankfully, more seniors understand and are aware of attractive options regarding their life insurance policies that they no longer need or can afford, rather than simply lapsing or surrendering those policies back to the insurance carriers. A more mainstream, popular strategy is exploring the sale of unwanted life insurance policies in the secondary market through life settlement transactions.
Life settlements usually occur in one of two ways - working directly with a single life settlement provider, or buyer, such as those companies that appear on television advertisements, or relying on a licensed life settlement broker, who represents the policy owner and not the funding source purchasing the life insurance policies.  Prudent and well-informed financial advisors conclude that leveraging the experience and the platform of a reputable and licensed life settlement broker is the best and arguably only proven approach to maximize the purchase price of life insurance policies.  Just as a licensed real estate agent representing the seller is financially incentivized to obtain the highest sale price for the property, a life settlement broker is similarly incentivized, while having a legal responsibility in most jurisdictions to fulfill a fiduciary duty to act in the best interests of the client.
In other words, life settlement brokers have a duty to shop the client's life insurance policy to available licensed buyers. At Welcome Funds, we recognize and advocate that the fairest way to fulfill this duty is to manage an "auction" process in which we invite life settlement providers, to submit offers for what they would be willing to pay for the life insurance policy.   Simply put, the highest final bid is the ultimate winner of the life settlement auction, as long as such offer passes due diligence standards.  
But how can a financial advisor and his client confidently know that a licensed life settlement broker has the technical knowledge, transactional expertise, and track record of ethical conduct to provide the most professional assistance?
A crucial starting point is confirming that a full-service life settlement broker is licensed throughout the country, indicating approval by various state regulatory authorities and a commitment of multiple resources to the marketplace.  No company would devote such time and money into licensing without successfully representing thousands of clients who sold their life insurance policies. 
Consider the multiple licenses and regulatory compliance obligations that Welcome Funds is required to maintain to provide life settlement services to our clients nationwide. For example, to obtain authority to become a life settlement broker in a specific state, four (both individual and entity) licenses may be required. Therefore, backgrounds and past conduct are reviewed on the firms themselves, as well as the individuals who are responsible for their compliance and operations.
The key takeaway is that life settlement brokers not only deliver the most value to policy owners for the sale of their life insurance policies on the secondary market but also endure rigorous and demanding licensing requirements to represent their clients pursuant to applicable law.  

For more information, please visit www.welcomefunds.com or call 877.227.4484.
Click here to download Life Settlement Broker Licensing