The Life Settlement Auction Remains as Powerful as Ever
Posted: September 20, 2022 by John Welcom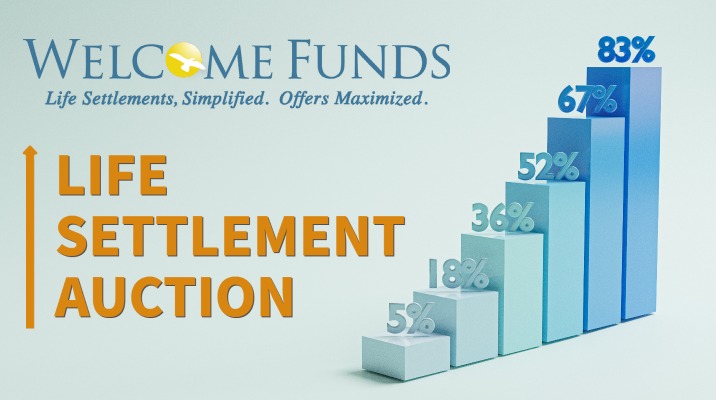 Life insurance, without question, serves as a financial umbrella to protect families. The coverage provides peace of mind and a safety net during a season of life when children are dependent on the support.
But what happens when that season ends, the kids are grown and self-sufficient, and mom or dad determines that such protection is no longer needed, wanted or affordable? What should he or she do instead of continuing to pay the existing premiums?
Some common options include reducing the death benefit; claiming accelerated benefits; taking out a loan; reducing the premiums with built up cash; or surrendering the policy back to the insurer (possibly for a fee).
A less common option that thankfully is becoming more mainstream is exploring the potential sale of a life insurance policy in the secondary market to an investor for less than the death benefit but more than the cash surrender value. This highly regulated transaction, mostly for insureds 65 and older, is known as a life settlement. 
The Life Insurance Policy Auction
There are a variety of reasons why experienced advisors conclude that working with a licensed life settlement broker makes the life settlement process easier and more beneficial for their clients.  The most important factor, however, is the use of a broker-managed life settlement auction model which is the only proven strategy for maximizing the purchase price on a life insurance policy.
"Most (life insurance) policy owners solicit the assistance of a life settlement broker when attempting to sell their policies," says the online personal finance reference site Investopedia. "Life settlement brokers contact life settlement companies to let them know that a policy is available for purchase. The broker then waits for the life settlement companies to bid on the policy, not unlike an auction."
Indeed, the power of a life insurance policy auction is the market advantage, compared to transacting directly with one buyer, that experienced life settlement brokers, such as Welcome Funds, utilize to represent the best interests of their clients.  The most effective analogy to highlight such power is selling a home.
No financial advisor would encourage his client to simply pick up the phone and call someone who buys properties, ask him what he would be willing to pay for his house, and then tell him to prepare the contract for execution. Rather, the advisor likely recommends listing the property for sale on the public market, entertain as many offers as possible, and obtain the most attractive and beneficial selling price and sales terms possible.
Of course, most homeowners decide to sell their property with the assistance of a licensed real estate broker, who is financially incentivized by a commission that rewards him for obtaining the highest price for the property. Similarly, a life settlement broker is financially incentivized by securing the highest price for a sale of a life insurance policy.
Life settlement brokers have a duty to shop a policy owner's life insurance policy to licensed buyers or life settlement providers.  To fulfill this obligation, brokers manage an "auction" process where they invite life settlement providers to submit offers for what they would be willing to pay for purchasing the policy. Simply put, the highest final bid is the winner of the auction.
The Proof is in the Results
This auction model ensures that competitive offers are obtained for a policy owner and the highest possible price is secured. Two recent case studies from Welcome Funds serve as a dramatic illustration of the power of the life settlement broker auction platform.
Margie purchased a 20-year level, convertible Term Life insurance policy at age 48 to provide her daughter with financial security. Twenty years later, the term premium was set to increase dramatically, and Margie's family could not afford to maintain the coverage.
Margie decided to explore a life settlement after seeing a TV commercial. She contacted one buyer directly, but felt that the $20,000 offer she received was low, given her deteriorating health. Thankfully, Margie reached out to Welcome Funds to obtain a second opinion.
Welcome Funds conducted a transparent auction, securing a total of 16 offers from multiple potential buyers. In the end, Margie was paid $54,000, a 170% increase compared to the offer she received initially, enabling her to immediately assist her daughter with a down payment on a new house.
Another client, Ronald, purchased a $300,000 Universal Life policy to provide his wife with financial security. Unfortunately, after more than 20 years, Ronald could no longer afford the premium payments as his healthcare expenses were mounting.
Ronald reached out to a life settlement provider about selling his policy. After weeks of waiting for a response, he was eventually offered $10,000 for his policy. Ronald was disappointed with this offer and decided to contact Welcome Funds to see if it would be willing to reach out to multiple potential buyers on his behalf.  Ronald made a wise decision.
Welcome Funds conducted a transparent auction and secured 22 offers for Ronald's policy.  Ronald received $64,800, a whopping 548% more than the offer extended by the original bidder.
Conclusion
These results are not unusual. A buyer has no incentive to offer its highest price when an advisor or life insurance policy owner applies directly to it. The buyer's objective is to offer a purchase price as low as possible to secure the best returns for its investors.
Conversely, life settlement brokers secure the best returns for consumers, the policy owners. By taking a policy to the open market of licensed life settlement providers, life settlement brokers literally watch the competitive marketplace tell them what a client's policy is worth as the offers increase from the first bid to the final bid.
That is the power of a life insurance policy auction.

For more information about the potential value of a life insurance policy on the life settlement market or to learn more about life settlements in general, please visit www.welcomefunds.com or call 877.227.4484.