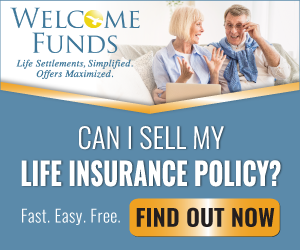 Real Life Settlement Stories. Real Value.
Many Americans are learning that selling their life insurance policy to the secondary market is a valuable financial option that generates more cash than the alternatives offered by their life insurance carrier. Their life settlement transactions have enabled them to put that cash to work for important things like health care expenses, retirement income, debt reduction, living expenses, and yes, even enjoying life. Our clients have been paid $1 Billion more than they would have received from their life insurance company if the life insurance policy was lapsed or surrendered.
Real stories are based on the internal files of actual viatical and/or life settlement transactions conducted by Welcome Funds Inc. since 2003. Our Client Care Advocates have summarized their personal knowledge of each case to share our clients' stories with you. All transaction data, dollar amounts, and health conditions are accurate to the best of our knowledge. The names and images of our clients have been changed to protect their privacy.
Disclaimer
Real Stories are just a small snapshot of how some of our clients have discovered their financial freedom by choosing the life settlement option. Please note that Real Stories are not necessarily indicative of the amount paid to similarly situated policy owners and what they can expect to receive - they should be used as a guide and point of reference only. There are numerous factors that affect the pricing of life settlements, including but not limited to life expectancies, future premium payments, state regulations, and competition.
Please be advised that past performance is not indicative of future results. Market conditions and offers vary and consumers are advised to seek the services of an experienced life settlement broker like Welcome Funds Inc. to ensure that fair market values are obtained. Our services may not be available in all states, please review our licensing page for further details or contact us with any questions.
Take the Next Step
There's no obligation to find out if you or your family member is a candidate for a life settlement. Our Client Care Advocates are available for a personal consultation and will answer all your questions. Take the next step and complete our Quick Life Settlement Qualifier with no obligation.